On your massage appointment
First of all, on arrival, you will be handed a form which needs to be filled in with details of your problem and medical history.
Then, we would appreciate if you could point out how much time you want us to spend on
each area. You know your body best and we will try to accommodate your needs. We aim to provide 100% of the quality expected.
For example, you could use the below – if you want us to focus mostly on your lower back, then neck and shoulders, with no frontal message.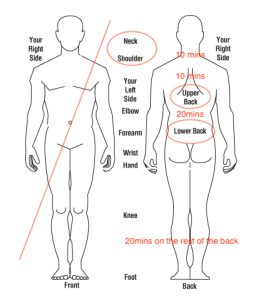 At your first 5 mins massage
The first 5 minutes. We will present you with different levels of massage strength and techniques, so you can
tell us how much pressure and which technique works best for you.
---
During your rest of the treatment
Our therapist will talk to you about what he has felt with his touch and share professional perspective about your physical issues. Don't feel pressured to talk to us, we understand you might have had a busy day and just want to unwind.
---
After your massage
You can ask our therapist about exercises suitable for you and your physical issues. Our therapist is more than happy to share his knowledge and help you as much as possible.